Rose Otto (Rosa damascena)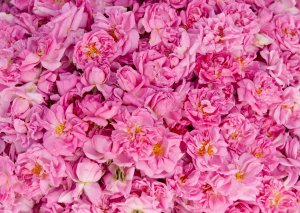 Rose Otto (Rosa damascena)
Rose Damask (Rosa damascena) is in the Rosacea family. The essential oil produced from this plant is called Rose Otto. Its delicate, fresh, pink blossoms are hydrodistilled and the result is a gorgeous pale yellow liquid exuding a sweet-floral aroma, which can instantly relax a human or an animal.

Rose Otto is one of my favorite essential oils. It is noted to be an antidepressant, anti-inflammatory, antiseptic, antispasmodic, antiviral, aphrodisiac, astringent, bactericidal, cicatrisant (wound healing) and sedative. It helps with nervousness and a tonic to the heart, liver, stomach, and uterus.

The suggested uses of rose essential oil are for broken capillaries, dry skin, eczema, aging skin, and wound healing. It helps with poor circulation, asthma, coughs, liver congestion, and nausea. Rose essential oil profoundly helps the nervous system with regard to depression, insomnia, apathy, nervous tension, and stress. This essential oil mainly produced in Bulgaria and Turkey. We obtain ours from Bulgaria.

Rose Otto is one of the most sought after and expensive essential oils on the market. As a way to make it more affordable, I offer a 10% dilution of Rose Otto essential oil in a vegetable base oil of Safflower. This dilution is powerful and needs to be diluted more when used with animals.

Safety: Non-toxic, non-irritant, possible sensitization in some individuals.

Comes in a 5ml euro dropper bottle.

These statements have not been evaluated by the FDA and as such shall not be construed as medical advice implied or otherwise. No claims are made with respect to the treatment of any physically diseased condition, and no attempt is ever made to dissuade individuals from seeking medical treatment for any condition. In addition, this equipment, technology, and products have not been evaluated by the FDA, nor are they intended to treat, cure, mitigate, diagnose or prevent any illness or disease.